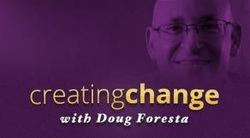 On stop #3 I had the honor of speaking with Doug Foresta on
Empowerment Radio
on his show Creating Change.
LISTEN IN HERE!
Doug speaks about creativity and how to harness and maximize its power to live a better life. Yes, a conversation that fits my point of view perfectly.
We talked about how to replace negative thoughts with creative thoughts and how to shift your perspective, ever so slightly, so that you may live a life more fueled by the creativity.
How do you do that? Wake up your brain by activating your senses!
Did you know that using the sense of smell is one of the most powerful and under-utilized tools to spark creativity?
Think about this: Particular scents/odors/smells trigger not just memories but have that ability to transport you across space and time. How often does a memory triggered by something you smell, carry emotion and color and depth?
That bond between memory and the sense of smell is a gateway to spark creating new rich, deep, emotion filled memories.