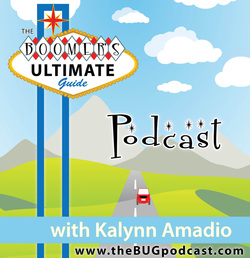 If there is one recurring question, one that I continue to encounter on this quest to promote brain healthy lifestyles, it is this: How do we overcome the challenges of the aging brain?
My answer? Embrace it.
Kalynn Amadio, host of
The Boomer's Ultimate Guide Podcast,
asked me how it is different speakng with Baby Boomers and that recurring question frames my answer.
We, the Baby Boomer generation, have been taught that we are on this path, from birth to death and that along the way we lose brain cells and with them, hope of functioning well.
That, my friends, is simply not true. We need to push those out dated notions out of our lives.
We can guide our experience and our paths to live a better, richer, fuller cognitive life -- one where we solve big problems, tackle tasks (large and small), and function well in our worlds.
Listen in as Kalynn and I talk about the gifts and the power of our aging brains and soooo much more!